Good vs. great employee! How to show yourself great to employers?
Introduction
Everyone has something unique or possesses a unique skill set, but not everyone expresses it to the rest of the world. Many have a question that how to become a great employee. Being good in a job is not enough, one should show their greatness to the employer if they want to enhance their career. Here are some ways to display you from a good to a great employee whether in an interview or performance in your role. These are some tips for a good employer to become a great one in your management.
Show your work is known
It doesn't enough that you are just doing your job. Your work should be known to others! This is the first milestone. Bring everyone's attention that you are a confident, strong, and best employee. You should think about the results of a job and its impact before you do it. Well, plan and execute it in a perfect and timely manner.
Evaluate your impact
How you compare your performance over time demonstrates to others how dedicated you are to the development of your abilities and career. People who grow their careers efficiently are curious about how they might improve performance outcomes. Their winning strategies become systemic as opposed to idealistic. Always there would be a competitor at work for everyone, the best employee perk is quantifying your work and time may make others feel great about you.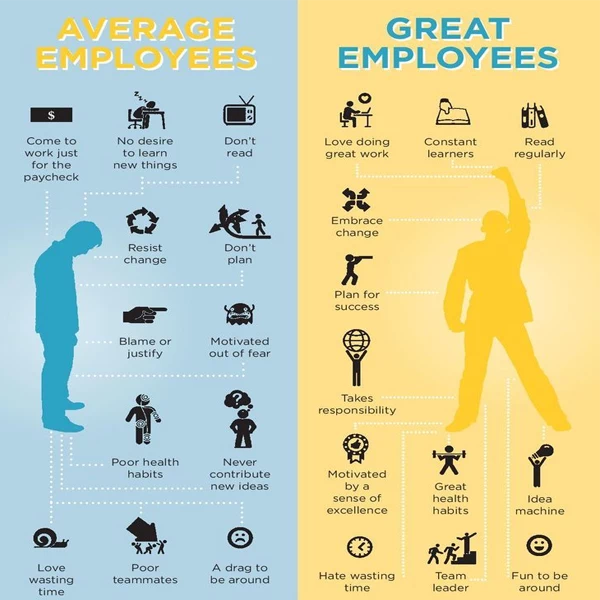 Show your improvement to upper management
The promotions that you wish for will obviously come from upper management. So they definitely need to know your growth and improvement in your work. For that, you should work hard as well as be smart. Be volunteer. If your higher authority didn't notice your improvement, just explain your growth and get appreciation, it is nothing wrong to ask for appreciation.
Quick response to challenges
If your TL or manager assigns you work that you have no idea about, don't hesitate. Take your own time and get learn things and do it. Refusing or hesitating about work will get a bad impression on you. Whether it is right or wrong, you must accept the challenge and try it.
Demonstrate your ability with new ideas
People who absorb new learning rapidly are often great. Create new ideas and innovations that help your organization's growth. First of all, exhibit a new idea at your work, it will be one step ahead of your goodness. Think of plenty of new ideas, and discuss them with your higher authority. Definitely, any one of the ideas may be implemented by your management, if it is great. This would be an excellent opportunity to show yourself as a great employee.
Take responsibility
What makes up a great employee? Taking responsibility is the foremost thing in looking for success. It is noted that you will not only receive credit for accomplishments but will also bear complete responsibility for failures. These are some of the responsibilities of a great employer.
✅ Diligently finishes all jobs given to you.
✅ Arrive promptly at your workstation.
✅ Volunteer to be the project manager.
✅ Teach new employees or apprentices.
✅ Mistakes are publicly acknowledged rather than covered up.
✅ Accept changes and difficulties (e.g., a promotion).
✅ Make recommendations for enhancements.
Conclusion
Several people have the qualities of a good employee but it doesn't enough, to make yourself great. Hope this article will help you to change from a good employee to a great employee. Want to show your greatness in any organization? Log in to Nithra Jobs, you will get lakhs of job offers for free. Select a job in which you are fit, apply for it, become an employee, show your greatness and enhance your career.
Posted By: Gowshika Sakthi
---